Socks & Insoles
Men get cold feet, too! But we have the perfect solution: buy comfortable, stylish, high-quality wool socks for men in our online shop!

Men's socks & lambskin shoe insoles
Who doesn't love a good, soft pair of wool socks or insoles made of lambskin? Extremely comfortable, they help keep your feet toasty-warm. High-quality men's socks made of lambswool and sheepskin shoe insoles: buy yours online now!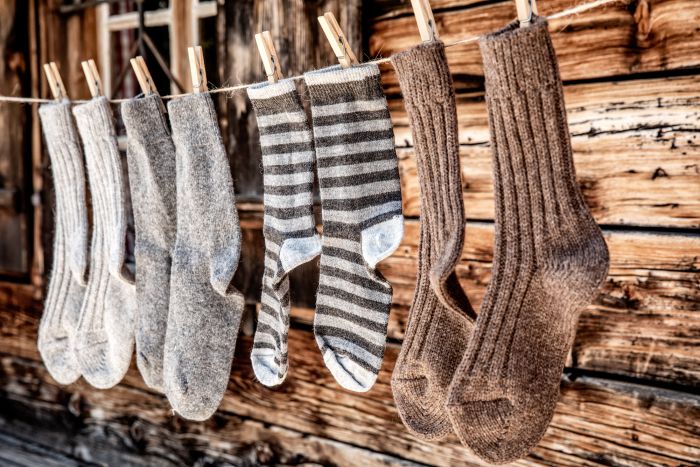 Alpaca socks for men
No more cold feet! Warm wool socks and lambskin shoe insoles for men
Thick socks made with alpaca wool? Or thin angora wool socks? The choice is yours! Everyone has a preference when it comes to socks: find the perfect pair here and order online!


Lambskin shoe insoles for cold days

Shoe insoles made of sheepskin offer great protection on cold days. Lambskin insoles are an excellent solution to cold, poorly lined winter boots – say goodbye to cold feet! With our lambskin shoe insoles, you can enjoy long evenings at the Christmas market and leisurely walks in the cold. Simply slip into your shoes and go!

So comfy – wool socks for men
Our men's socks are incredibly comfortable. Their elastic cuff keeps your sock in place without cutting into your skin. Our alpaca wool socks gently hug your feet. With our wool socks, you'll feel like you're walking on air!

A wide range of lambskin products
When you choose Fellhof slippers or slipper boots, you get a long-lasting natural product – partly designed by Mother Nature herself. Lambskin regulates temperature, is durable, skin-friendly and natural.

We also have cosy lambskin slippers for men and warm baby booties and slippers for kids. Learn more about our wide variety of lambskin slippers. In addition to our popular TRENDY slippers and slipper boots with leather soles, we have many other styles with something for everyone.

Keep your feet warm in the snow, too, with our lambskin boots for women and winter boots for men. And don't forget your hands! Our warm sheepskin gloves for women, lambskin gloves for men and soft gloves and mittens for kids keep your hands toasty and warm.
Order your lambskin products online today and be prepared for whatever winter has in store!