Stools & Benches
Looking for a very special accent piece for your home? Something one-of-a-kind? A unique bullhide stool or bench will do the trick! Browse our selection and order online today.

Bullhide stools: a very special accessory for your home
Treat your home to a beautiful, unique piece of furniture: our bullhide stools create a wild yet sophisticated look in any space! Choose from a stool with a patchwork design, high-quality bullhide, round, square, tall or short: buy your favourite bullhide stool online today!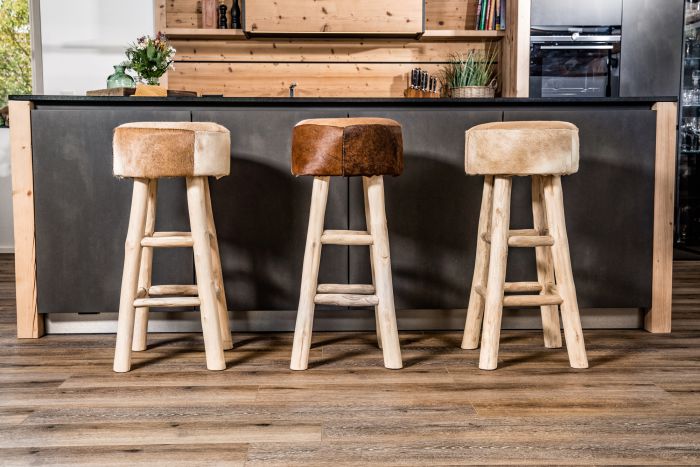 Bullhide stools: functional eye-catchers
Practical and unique: our comfortable bullhide stools give any room an exotic touch.
Use as a seat, accent table or simply as a decorative conversation piece: no matter how you use them, our bullhide stools turn heads!


How to care for your bullhide stool? It's easy!

Whether you choose a patchwork design or more natural bullhide stool with rustic wooden legs: our pieces are real eye catchers! Plus, our cowhide accent pieces are easy to care for. Simply vacuum carefully or wipe away stains with a damp cloth – and you're done!

High-quality materials for our bullhide stools
All of our bullhide products are made from high-quality hides. After careful tanning and processing, the hides are then used to make our high-quality products.

A wide variety of cowhide products
Premium quality: we use only top-quality, tested hides to make our products. See our excellent quality in our online shop: from items for women and men to slippers for kids, footmuffs and home décor, including sheepskins and bed underlays made of sheepskin – we have lambskin products for everyone!

Have you found the perfect bullhide stool for your home? Order online today – you'll love our high quality!