Care Products
Would you like to enjoy your high-quality sheepskin for a long time to come? Frequent proper care is imperative. Order a sheepskin brush and our Fellhof special shampoo to keep your sheepskin looking beautiful!
Brushes to clean your sheepskin
Sheepskin is naturally soft, supple and fluffy. The proper care and cleaning is required to keep it this way. Frequent brushing with a sheepskin brush does wonders. Buy your sheepskin brush in our online shop today!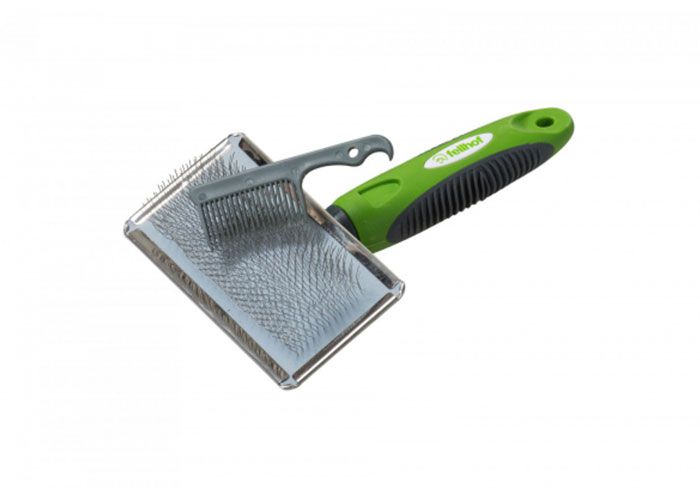 How to clean sheepskin
Frequent cleaning and gentle brushing keeps your sheepskin soft and beautiful Sheepskin is easy to care for. It is best to air out and brush your sheepskin every so often. Brushing keeps the wool soft and shiny for a long time. But not every brush is suitable! Brushing your sheepskin requires a brush specially made for sheepskin care.
Special brushes for sheepskin
Sheepskin brushes have specially curved steel bristles. They gently untangle the soft wool fibres, creating softness and shine. Plus, our sheepskin brushes have ergonomically-shaped handles that make them easy and comfortable to use.
Wash, dry, brush your sheepskin – that's it!
A general rule of thumb is to not wash your sheepskin too often – most are not suitable for machine washing. However, sheepskins that are designated as washable can be washed if they get a larger spot or stain. Washable sheepskins are machine washable up to 30°C on the gentle cycle, without spin cycle. However, you do need to be careful when drying: we do not recommend tumble drying, placing near a source of heat or in direct sunlight. Simply hang your sheepskin out to dry. When dry, simply brush out with a sheepskin brush and it will look – and feel! – like new.
A wide variety of lambskin products
We love lambskin – that's why we take such care to create a wide variety of high-quality lambskin products. From our collections for women and men to baby booties, wallets, hot water bottle covers and products for the home: lambskin is a real all-rounder!

We also carry lambskin slippers for men, as well as cosy and warm baby booties and slippers for kids. Learn more about the wide variety of lambskin slippers we offer – from our modern TRENDY models to warm slipper boots with leather soles, we have something to suit everyone's taste.
Keep your feet happy and warm even as temperatures drop – browse our selection of lambskin boots for women and men. Don't forget your hands: take a look at our warm lambskin gloves for women, lambskin gloves for men and mittens for kids and babies.
Learn more about how versatile lambskin is and browse our online shop. Order your favourites and have them delivered right to your door!