Cowhides from Fellhof
Proven quality for over 30 years
F
ellhof cowhides and bullhides are high-quality natural products.

Each cowhide is unique and turns your space into a real eye-catcher.

When you purchase

a Fellhof cowhide, you are getting a handpicked, durable natural product of the highest quality – designed by Mother Nature herself!
Each cowhide is completely unique
Bullhides
are purely natural products and no two hides are alike – unique
neck folds or brand marks can be found on some hides, for instance.
In order to give you the opportunity to choose your favourite cowhide, we photograph every single one for our shop.
This way, you will receive exactly the piece you have personally selected!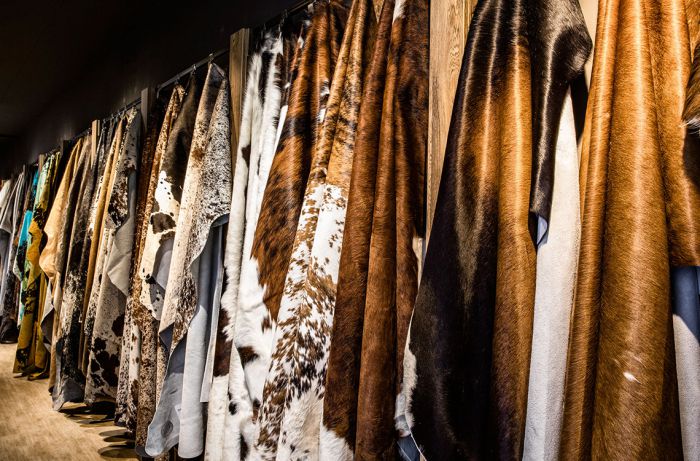 Cowhides from the experts
Buy exclusive bullhides online from the Fellhof
Cattle have been part of human life for over 7,000 years.
They have always been suppliers of milk and meat, were once prized as valuable workers, and their dung is still used to fertilise fields and their hides used to make leather.
Cowhides are long-lasting natural products
When you buy a Fellhof
cowhide, you are getting a long-lasting natural product of the highest quality.
Exclusive cowhides give your home a special atmosphere.
They provide a cosy touch and a bit of romance, and lend every room a little something extra.
Bullhide rugs are easy to care for & hygienic
Cowhides are breathable, elastic, durable and highly resistant to tearing
When exposed to fresh, oxygen-rich air, cowhides clean themselves and feature antibacterial properties.
A cowhide or bullhide rug is always an eye-catcher and every one is completely unique!

Cowhides are a high-quality leather product
Leather
is animal skin that has been tanned to preserve its natural fibre structure.
Leather is a supple, tough, relatively strong, durable and versatile material.
It is relatively impermeable to water and yet breathable.
The history of using leather dates back to around 3,400 BCE in ancient Egypt. During the

Roman Empire (around 500-700 BCE), lots of leather was used for legionaries' equipment.

L

eather has also been used for clothing subject to heavy wear and tear, and later also for pilot and motorcycle helmets.

Today, leather is still used in many different ways.

In addition to clothing, shoes and bags, it is also used for balls, furniture, dog leads, car seats and even horse saddles
.
A bullhide rug is always an eye-catcher and each is completely unique