Sheepskin Covers
Say goodbye to cold steering wheels in winter, uncomfortable bike saddles, and car seats that could be a bit warmer – thanks to sheepskin! Buy a soft sheepskin cover online and stay warm on cold winter days!

Sheepskin covers for the car and bike: stay warm all winter long
Everyone knows the feeling of getting into a cold car in the middle of winter. Our soft sheepskin covers make this winter problem a thing of the past! Simply slip over your steering wheel, car seat or bike saddle and enjoy a pleasantly warm journey!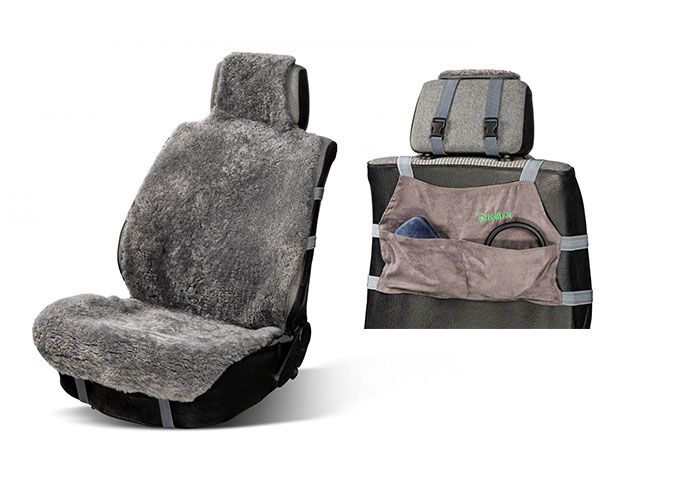 Sheepskin covers – perfect for all four seasons
No synthetic material can compete with sheepskin's incredible properties
Sheepskin's long fibres act as natural insulation in winter and create a comfortable warmth. In summer, it cools and absorbs moisture. Our sheepskin covers keep you comfortable no matter the weather!


Sheepskin covers are easy to slip on and stay in place

Our sheepskin covers are easy to slip on: simply pull the cover over your car seat, bike saddle or steering wheel. The cover is secured with an elastic band to keep it from slipping.

Cleaning sheepskin covers is easy
Sheepskin is easy to clean and care for. Our sheepskin covers can be washed at 30°C. Do not tumble dry, or expose to direct sources of heat or sunlight.

Discover our wide range of lambskin products

Are you familiar with our other sheepskin products? From shoes for kids to our women's collection and menswear, through to sheepskin rugs and genuine bullhide rugs – you'll find nearly everything you could ask for in our online shop!

Have you found just what you've been looking for? Order online today and have it delivered right to your door!