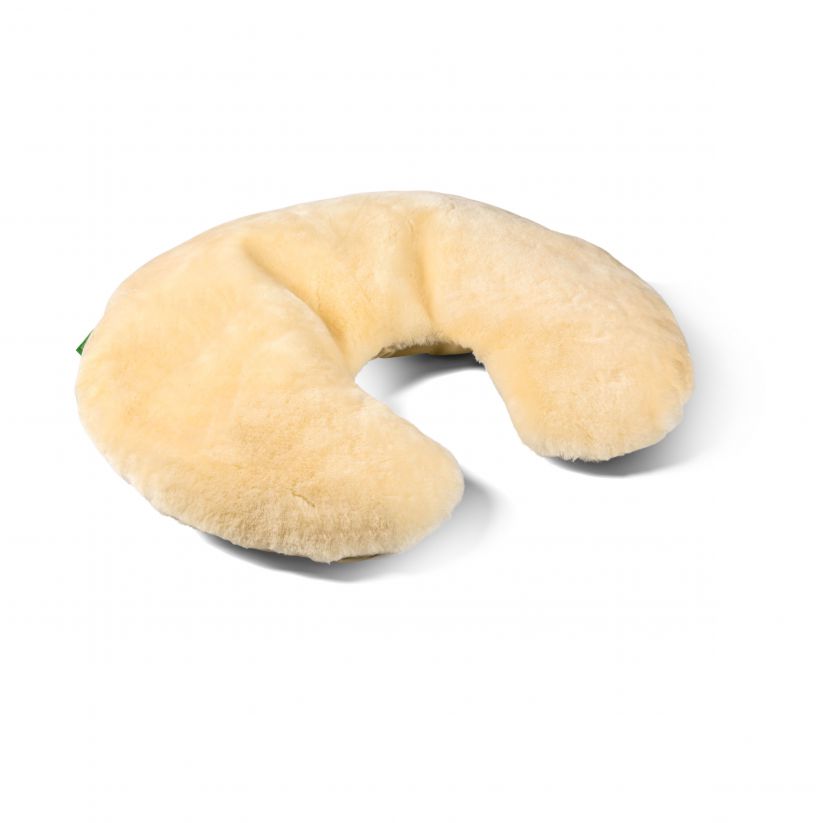 Lammfell Stillkissen beige
Click & Collect available
No Click & Collect
Ready for pickup:
Fellshop Wien Mariahilferstrasse
Fellshop Salzburg Getreidegasse
Fellhof Einkaufswelt in Hof bei Salzburg
Ready for pickup in 3-5 business days:
Fellshop Wien Meidling
Fellhof Shop Wurzelstock Lienz
Fellhof Shop Innsbruck
Available, ready for shipping 1-3 days
14 days right of withdrawal
Stillkissen aus Lammfell
Das kuschelige Stillkissen aus Lammfell bietet deinem Baby Geborgenheit und unterstützt dich beim Stillen. So können sowohl Mutter als auch Baby das Stillen mit flauschigem Komfort genießen.
Die natürliche kleine Stillunterlage aus weichem Lammfell ist bereits in der Schwangerschaft ein angenehmer Begleiter für werdende Mütter. Denn während in deinem Bauch dein Schatz heranwächst, wird dein Rücken immer stärker belastet. Ein Stillkissen ist dir bereits während der Schwangerschaft ein treuer Diener, um im Sitzen oder im Schlaf die richtige Position zu finden.
Kompaktes Lammfell Stillkissen für Baby & Mama
Das hufeisenförmige Stillkissen aus Lammfell wird beim Stillen auf die Hüfte geklemmt und formt dadurch eine flauschige und flexible Unterlage für dein Baby. Im Inneren des Schwangerschaftskissen befinden sich Mikrokügelchen. Sie passen sich perfekt an deine Körper- und Bauchform an.
Außerdem kann das Stillkissen auch als Nest für dein Baby verwendet werden und als kuschelige Schlafhilfe dienen. Das praktische Stillkissen aus Lammfell bietet Entlastung beim Stillen und ist der optimale Helfer für die ersten Monate mit deinem kleinen Liebling.
Alle Vorteile im Überblick
Außenmaterial: 100% Merino-Lammfell
Unterseite: robuste Canvas-Baumwolle
Innenmaterial: Mikrokügelchen
Abnehmbarer Bezug
Mit praktischem YKK-Reißverschluss zum Öffnen
Farbe: beige-natur
Größe: 67cm x 58cm x 18cm
Bei 30° C waschbar
Wichtiger Hinweis zur Pflege
Beim Reinigen die Waschanleitung beachten! Lege auch gleich das pflegende Spezial-Shampoo für Lammfelle und eine praktische Fellbürste in deinen Warenkorb.
Product number: 1390002
As a general rule, do not wash too often! Lambskin is self-cleaning, dirt-repellent and easy to care for.
General care: Regular brushing and shaking help to keep the lambskin soft and fluffy. We also recommend brushing the coat well in case of light stains, the affected area can be moistened slightly beforehand. In general, we recommend airing out fur products regularly - fog or even snow for several hours is best for this. The following applies: the coat can become damp, but the leather should not get wet.

Cleaning in the washing machine: As rarely as possible. For cleaning we recommend hand washing or the wool/hand washing programme of the washing machine cold or with max. 30 degrees at max. 600 revolutions. We recommend using only PH-neutral special lambskin shampoo.

Drying: The fur should be spread out flat to dry in an airy place, e.g. on a clothes horse on the balcony. During the drying phase, the lambskin should be pulled into shape while still damp. Neither during drying nor during storage should the lambskin bag be exposed to direct sunlight, also avoid the proximity of artificial heat sources (e.g. heating). Do not tumble dry!