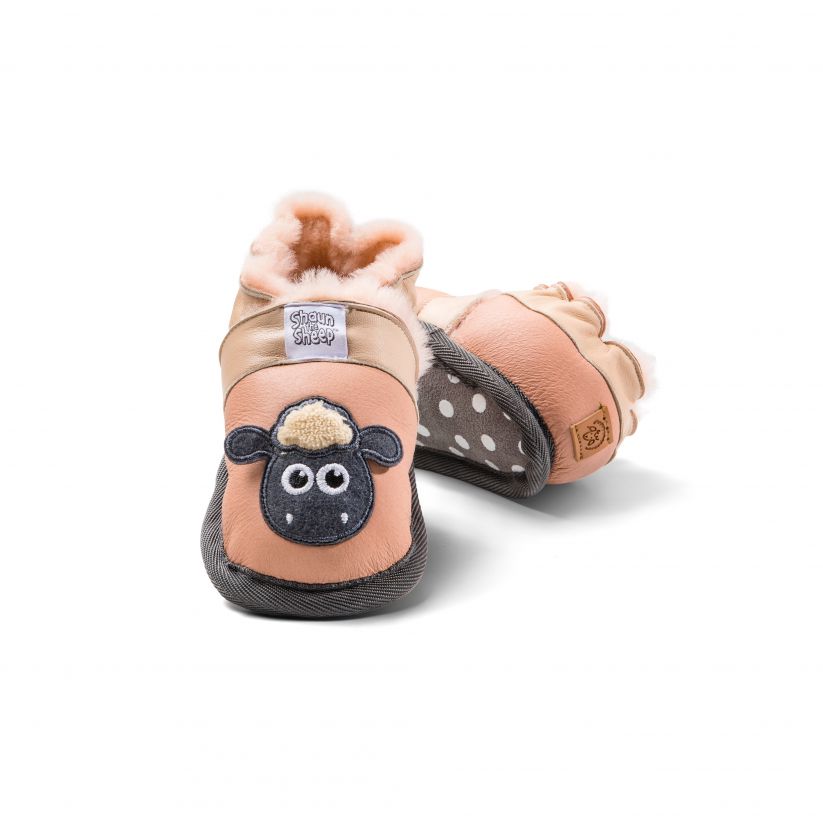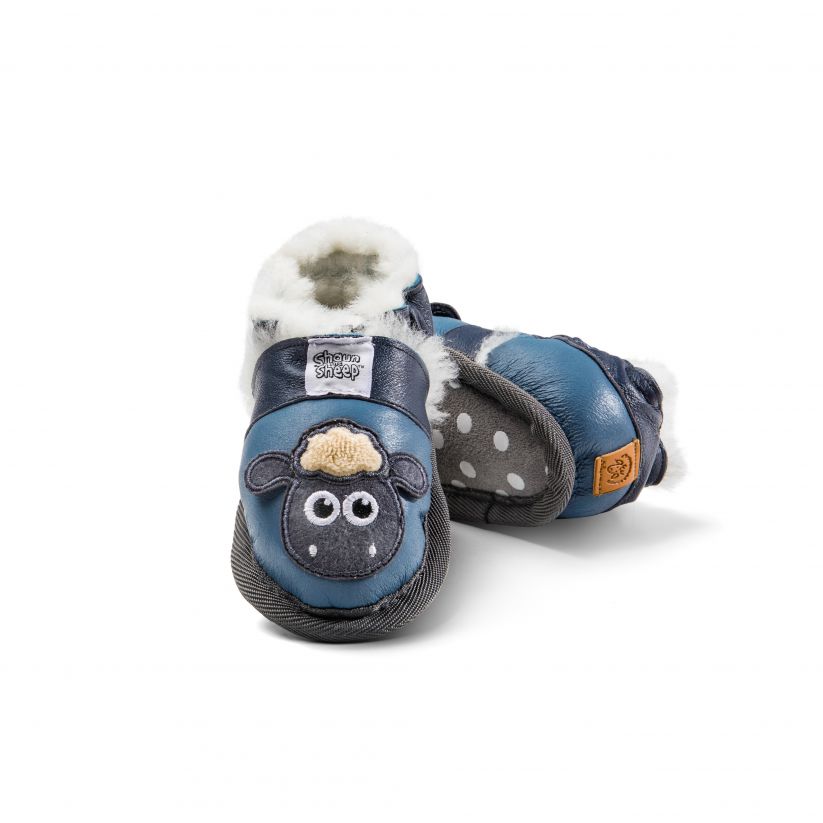 SHAUN Lambskin Booties
Click & Collect available
No Click & Collect
Ready for pickup:
Fellshop Wien Meidling
Fellshop Wien Mariahilferstrasse
Fellshop Salzburg Getreidegasse
Fellshop Graz
Fellhof Einkaufswelt in Hof bei Salzburg
Ready for pickup in 3-5 business days:
Fellhof Shop Wurzelstock Lienz
Fellhof Shop Innsbruck
Available, ready for shipping 1-3 Werktage
14 days right of withdrawal
Reviews
4.75 /5.00 A
"Sehr gute Qualität zum weiterempfehlen"
SHAUN the Sheep lambskin baby booties
Non-slip lambskin Shaun the Sheep baby booties – perfect for baby's first steps!
Your baby can bravely take their first steps in these baby booties. Cosy, warm baby booties made of lambskin and soft leather keep little feet toasty and warm. The soft, stretchy leather cuff makes them easy to slip on and hold the booties in place. These booties are very comfortable for baby to wear and non-slip ABS pads offer security when standing and walking. The top part of these booties feature a sweet Shaun the Sheep patch.
Shaun the Sheep patch
Lining: 100% lambskin
Sizes: 21/22, 22/23, 24/25
Colours: cobalt blue, flamingo pink
Ergonomic velour leather sole
Non-slip silicone pads
Product number: 1407020
Grundsätzlich gilt: Nicht zu oft waschen! Lammfell ist selbst reinigend, schmutzabweisend und pflegeleicht.
Allgemeine Pflege: Regelmäßiges Bürsten und Aufschütteln helfen dabei, dass das Lammfell weich und flauschig bleibt. Auch bei leichten Flecken empfehlen wir das Fell gut durchzubürsten, die betroffene Stelle kann dabei zuvor leicht angefeuchtet werden. Generell empfehlen wir Fellprodukte regelmäßig gut auszulüften – am besten eignet sich hierfür Nebel, oder sogar Schnee für mehrere Stunden. Dabei gilt: das Fell kann feucht werden, das Leder sollte jedoch nicht nass werden.
Die Reinigung in der Waschmaschine: So selten wie möglich. Für die Reinigung empfehlen wir Handwäsche oder das Woll-/Handwaschprogramm der Waschmaschine kalt oder mit max. 30 Grad bei max. 600 Umdrehungen. Als Waschmittel raten wir ausschließlich zu PH- neutralem Spezial Lammfell-Shampoo.
Trocknen: Das Fell sollte zum Trocknen flach an einem luftigen Ort ausgebreitet werden, z.B. auf einem Wäscheständer am Balkon. Während der Trocknungsphase sollte das Lammfell noch in feuchtem Zustand in Form gezogen werden. Weder bei der Trocknung noch bei der Lagerung sollte der Fellsack direkter Sonneneinstrahlung ausgesetzt sein, auch die Nähe von künstlichen Wärmequellen (z. B. Heizung) vermeiden. Nicht im Wäschetrockner trocknen!
WICHTIG: Beim Fußsack Modell SÖLDEN die Magnetstreifen beim Waschen entfernen!