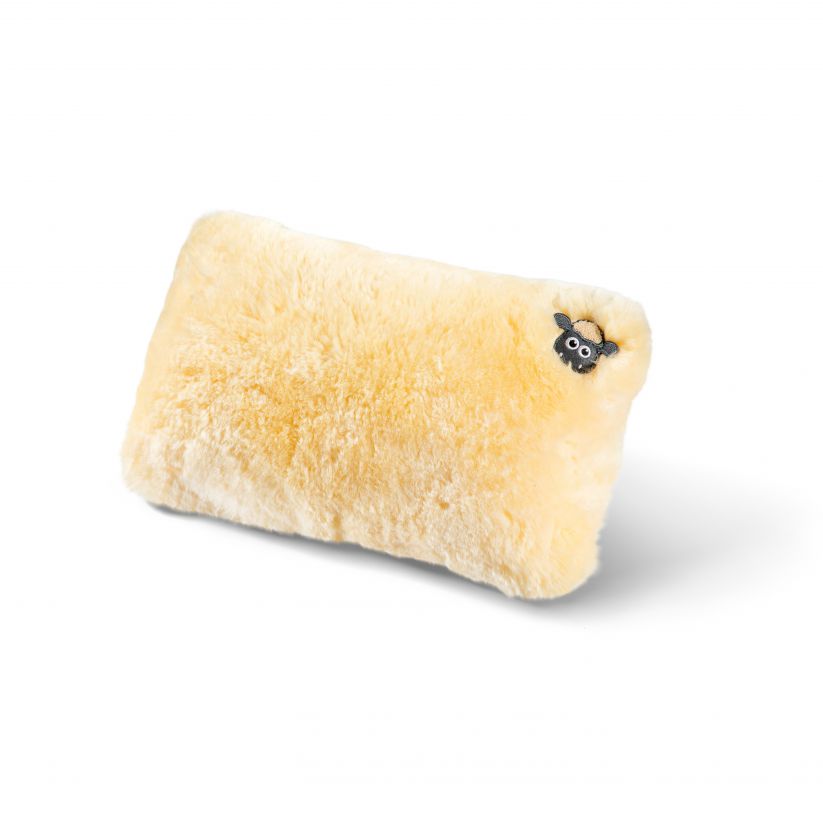 SHAUN Lambskin Pillow
Click & Collect available
No Click & Collect
Ready for pickup:
Fellshop Wien Meidling
Fellshop Wien Mariahilferstrasse
Fellshop Salzburg Getreidegasse
Fellshop Graz
Fellhof Einkaufswelt in Hof bei Salzburg
Ready for pickup in 3-5 business days:
Fellhof Shop Wurzelstock Lienz
Fellhof Shop Innsbruck
Available, ready for shipping 1-3 Werktage
14 days right of withdrawal
Reviews
5.00 /5.00 A
"Kuschelig und hochwertig."
Shaun the Sheep lambskin pillow
Our Shaun the Sheep pillow helps parents and kids sleep easy.
Sweet Shaun the Sheep can join your child as a soft, cuddly pillow. In baby's first few months, the cuddly pillow is a great sleep aid – lay it next to your child, and its familiar smell will have a calming and familiar effect on him or her. The lambskin cover is soft and warm, regulates temperature and ensures a pleasant and balanced sleeping climate.
Shaun the Sheep applique
OEKO-TEX® Leather Standard certified
100% lambskin
Down fillling
Practical YKK zipper
Dimensions: 40 x 25 cm
Colours: cobalt blue, vanilla white
Product number: 1355012
Grundsätzlich gilt: Nicht zu oft waschen! Lammfell ist selbst reinigend, schmutzabweisend und pflegeleicht.
Allgemeine Pflege: Regelmäßiges Bürsten und Aufschütteln helfen dabei, dass das Lammfell weich und flauschig bleibt. Auch bei leichten Flecken empfehlen wir das Fell gut durchzubürsten, die betroffene Stelle kann dabei zuvor leicht angefeuchtet werden. Generell empfehlen wir Fellprodukte regelmäßig gut auszulüften – am besten eignet sich hierfür Nebel, oder sogar Schnee für mehrere Stunden. Dabei gilt: das Fell kann feucht werden, das Leder sollte jedoch nicht nass werden.
Die Reinigung in der Waschmaschine: So selten wie möglich. Für die Reinigung empfehlen wir Handwäsche oder das Woll-/Handwaschprogramm der Waschmaschine kalt oder mit max. 30 Grad bei max. 600 Umdrehungen. Als Waschmittel raten wir ausschließlich zu PH- neutralem Spezial Lammfell-Shampoo.
Trocknen: Das Fell sollte zum Trocknen flach an einem luftigen Ort ausgebreitet werden, z.B. auf einem Wäscheständer am Balkon. Während der Trocknungsphase sollte das Lammfell noch in feuchtem Zustand in Form gezogen werden. Weder bei der Trocknung noch bei der Lagerung sollte der Fellsack direkter Sonneneinstrahlung ausgesetzt sein, auch die Nähe von künstlichen Wärmequellen (z. B. Heizung) vermeiden. Nicht im Wäschetrockner trocknen!
WICHTIG: Beim Fußsack Modell SÖLDEN die Magnetstreifen beim Waschen entfernen!