Slippers
Our feet carry us through life – so at Fellhof we pay extra close attention to choosing natural, high quality materials for our women's slippers.

Lambskin slippers for women
In addition to the comfortable warmth and stylish design of our women's slippers, the lambskin used to make them contributes to healthy, happy feet. Treat your feet to something good and choose slippers with breathable, high-quality leather soles; sturdy, non-slip rubber soles; or an ergonomical footbed.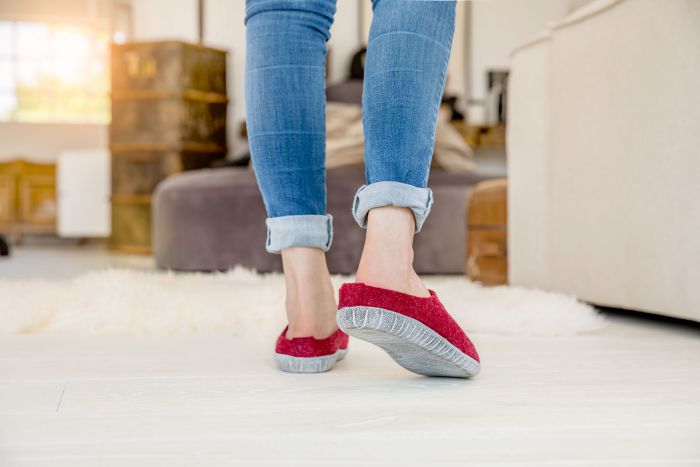 Lambskin slippers for women – perfect in all four seasons
Do you wear slippers with or without socks? Both are fine with our soft lambskin slippers!
In winter, lambskin keeps your feet wonderfully warm. But you don't have to forego your favourite slippers in summer: lambskin's soft fibres allow air to circulate, keeping your feet at a comfortable temperature. Plus, lambskin absorbs moisture and neutralises odours.

Lambskin slippers for women are all-rounders
Whether you prefer backless slip-ons, closed slippers or slipper boots: we have lambskin slippers for every woman. Choose from a wide range of designs and find the perfect slipper for your needs. Whether you're looking for a practical slipper for around the house or a cosy, warm pair for a night in on the couch – you're sure to find the perfect slippers here.
Cosy lambskin slippers: natural & real
When you choose Fellhof slippers or slipper boots, you are getting a long-lasting natural product of the highest quality – designed in part by Mother Nature. Shearling is truly a wonder of nature: temperature-regulating, long-lasting, skin-friendly and natural.

We also carry lambskin slippers for men, as well as cosy and warm baby booties and slippers for kids. Learn more about the wide variety of lambskin slippers we offer – from our modern TRENDY models to warm booties with leather soles, we have something to suit everyone's taste.