Kinderwagenfellsack CORTINA Filz hellgrau
Click & Collect available
No Click & Collect
Ready for pickup:
Fellshop Wien Mariahilferstrasse
Fellhof Einkaufswelt in Hof bei Salzburg
Ready for pickup in 3-5 business days:
Fellhof Shop Wurzelstock Lienz
Fellhof Shop Innsbruck
Available, ready for shipping 1-3 days
14 days right of withdrawal
Kinderwagen Fußsack Cortina Filz
Unser Lammfell Fußsack Klassiker Cortina im neuen Gewand. Das Außenmaterial aus Filz gibt dem beliebten Kinderwagenfußsack einen besonders warmen und natürlichen Look.
Der kuschelige Kinderwagenfellsack Cortina Filz ist für gängige Kinderwagenmodelle ebenso geeignet wie für die neuesten Modelle. Der neue Lammfell-Fußsack für Babys & Kleinkinder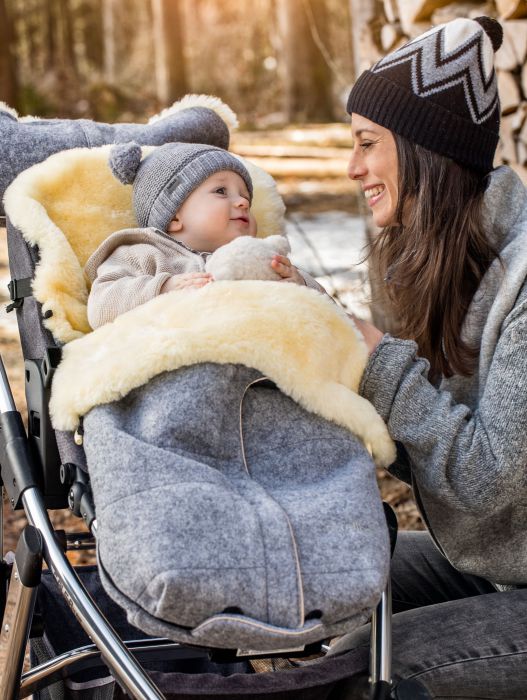 Kinderwagen-Fußsack im natürlichen Look
Das kuschelige Innenleben des Fußsack Cortina Filz ist aus einem Stück Lammfell hergestellt und sorgt für behagliche Wärme für deinen kleinen Liebling. Während es im Winter wärmt, sorgen die langen Fasern des Lammfells im Sommer für guten Temperaturausgleich. Dein Kinderwagen-Fußsack ist dank des abzippbaren Oberteils im Nu zu einer flauschigen Kinderwageneinlage umgebaut – so kannst du ihn das ganze Jahr über im Einsatz haben.
Das Außenmaterial des Lammfell Fußsack Cortina Filz ist aus hochwertigem Woll-Filz gefertigt und besonders wärmeisolierend und atmungsaktiv.
Vorteile des Cortina Filz Fußsacks
Der robuste YKK-Reißverschluss befindet sich in der Mitte des Lammfell Fußsacks und kann zur Gänze aufgeklappt werden. So ist ein leichter Ein- und Ausstieg für dein Kind garantiert.
Kein Problem mit schmutzigen Schuhen dank Öffnung am Fußende, denn für schmutzige Straßenschuhe bietet der "Cortina Filz" die optimale Lösung. Das Fußende kann geöffnet werden, so dass die Stiefelchen herausschauen und den Fellsack nicht schmutzig machen.
Die umklappbare Krempe des Cortina Filz sieht nicht nur schön aus, sie ist auch praktisch, weil man damit den Fellsack verlängern kann. Auf dem rutschfesten Material im Rückenbereich sind waagerechte 5-Punkt Gurtschlitze für einen festen Halt im Kinderwagen angebracht.
Darüber hinaus sorgen reflektierende Streifen für gute Sichtbarkeit im Straßenverkehr.
Praktische Eigenschaften des Lammfell-Fußsacks
OEKO-TEX® Standard 100
OEKO-TEX® Leather
Innenmaterial: 100% Merino-Lammfell
Außenmaterial: hochwertiger Woll-Filz (Loden)
Größe: 45 x 97 cm
für Kinder bis ca. 3 Jahre
wind- und wasserabweisend
YKK-Reißverschluss
auch für Babywannen geeignet
Rückenteil abzippbar (kann als Einlage verwendet werden)
Öffnung am Fußende
5-Punkt Gurtschlitze
für die gängigsten Kinderwagenmodelle geeignet
mit Spezial-Fellshampoo waschbar bis 30°C
rutschfeste Einsätze im Rückenbereich
erhöhte Sicherheit durch reflektierende Streifen
Wichtiger Hinweis zur Pflege
Wichtiger Hinweis zur Pflege deines Lammfell Fußsacks
Product number: 1101103
Washing instructions - lambskin footmuffs
You can wash your lambskin footmuff in the washing machine or by hand at a maximum of 30°C. Use a mild, PH-neutral wool shampoo. Use a mild, PH-neutral wool detergent, preferably our special
lambskin shampoo
. Please make sure that you only spin the fur bag lightly to remove excess water.
What you need to bear in mind when drying
Dry the lambskin footmuff spread out flat in an airy place. Pull the footmuff into shape while it is still damp. Do not dry in direct sunlight or near artificial heat sources (e.g. heating). Do not tumble dry!

General care instructions:

Regular brushing and shaking help keep the lambskin soft and fluffy.
IMPORTANT: Remove the magnetic strips from the lambskin footmuff model SÖLDEN when washing!