Footmuffs
Our cuddly-soft lambskin footmuffs for prams create a place of comfort and well-being for your baby. Get ready for any outdoor adventure with a lambskin footmuff!

Lambskin footmuffs for prams
Fresh air is important for baby and does new parents a world of good, too! Walks and time outside are part of everyday life with a new baby. Dress baby and put them in the pram, pack your diaper bag for your walk and head outside. Your little one can soak up all the new sights and sounds from the comfort of their Fellhof lambskin footmuff. After all, Mums and Dads know what does their baby good!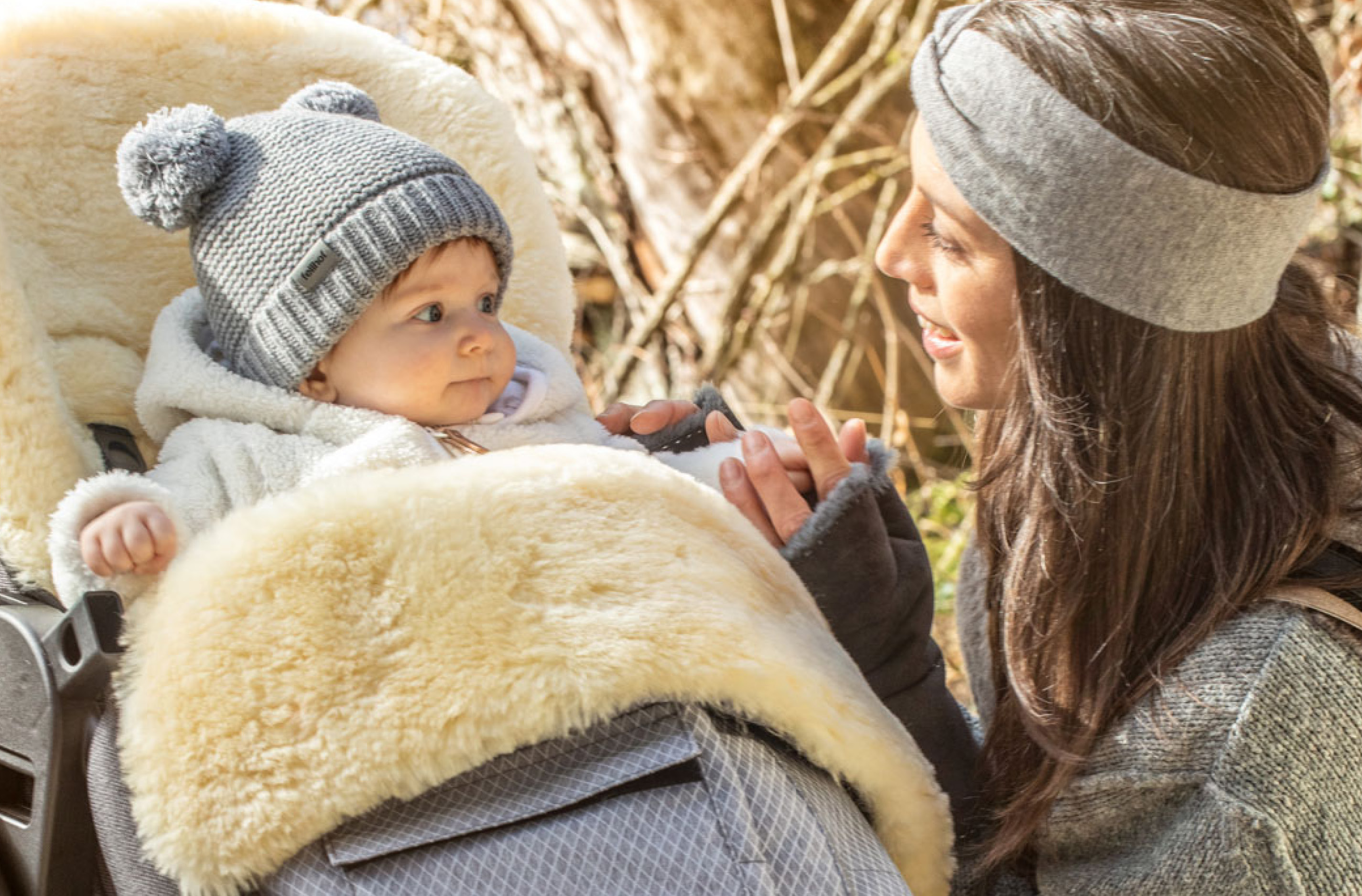 Lambskin is a gift from nature
100% Merino lambskin

Warms in winter
Prevents heat build-up in summer

Temperature-regulating, moisture-regulating, breathable

Self-cleaning, dirt-repellent, easy to care for
Natural, soft and hygienic

Compare footmuffs: lambskin footmuffs for babies & children
Our lambskin footmuffs have their own sweet names:
CORTINA
,
CORTINA Filz
,
HOCHSÖLDEN
,
GARMISCH
and
OLAF
, our footmuff for sledges. Not sure which footmuff is right for you? Find answers to some common questions and details about our lambskin footmuffs below.
Which lambskin footmuff is right for my pram?
Lambskin footmuffs for prams
A lambskin footmuff is a great choice that will give you and your little one plenty of lovely time together.
Fellhof stands for the best quality and an excellent selection of lambskin footmuffs. You'll be amazed at the exquisite range of our lambskin footmuffs for prams, as well as the high quality of products we offer. Our cosy pram footmuffs are perfect for spending time outdoors with the whole family. Our lambskin footmuffs protect your baby in their carrycot, pram or buggy whilst keeping them comfortably warm.


Pram footmuffs with lambskin
What makes our footmuffs stand apart is the high-quality lambskin used in all of our footmuffs. Parents love the kid-friendly design of our lambskin footmuffs, whilst babies and toddlers love the soft, cosy fur, which keeps them warms in winter and cool in summer.

Lambskin footmuffs are great in summer, too
Did you know lambskin is excellent for babies in summer, too? Lambskin regulates temperature and helps prevent babies from getting sweaty.

Mums and Dads love our wonderful natural products that not only boast the best quality, but are practical and functional, too. We keep the needs of babies and parents in mind when developing our products.

Browse our online shop and find the perfect lambskin footmuff for your little one!