Hats & Caps
Our lambskin hats, knit caps and headbands are eyecatchers! High-quality materials and lovely details make our ladies' hats a treat to wear in winter!

Hats for women & earmuffs with lambskin
Elegant, chic and cosy-warm: the best ways to describe our winter hats, caps and headbands for women! Whether you go for lambskin or a knit hat – our hats and caps protect you from the cold and turn heads, too. Buy your favourite knit cap or fur hat online today!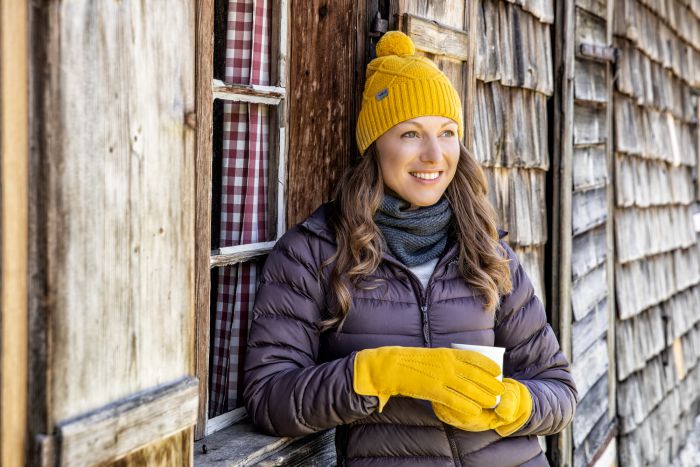 Ladies' hats, caps & earmuffs
A wide variety of lambskin hats for women
Our elegant fur hats made with lambskin give every winter outfit an extra special touch. Our practical earmuffs fit into any bag and are the perfect accessory for a wintry stroll through the city. Our knit hats and headbands made from cosy Merino wool are up for any outdoor adventure. Browse our wide range of warm winter hats and earmuffs for women.


Winter hats for women – ready for anything
Sweet knit caps. Comfy, furry earmuffs. A fashionable fur hat. Headbands made of the finest Merino wool. Hats with warm earflaps or without. Wool caps with a fluffy pompom. Find all of these and more in our online shop!

Our lovely winter hats for women turn heads! These warm winter accessories don't only keep your ears nice and toasty, they give your outfit the finishing touch. Whether you're planning a winter walk in the snowy woods, a visit to the Christmas market or are hitting the ski slopes: our fur hats and knit caps are a great choice for any winter activity!


Top quality lambskin hats

Feel the soft fur on your skin. All of our women's hats, headbands and earmuffs treat your head and ears to exquisite comfort with high-quality materials. With our high-quality winter hats, you'll be ready for anything this winter!

Comfy lambskin products: feel great, naturally.
Take a look at our online shop and explore other products made with nature's miracle material, lambskin. When you choose a lambskin hat, a pair of our lambskin slippers, or our comfy slipper boots, you are getting a long-lasting natural product – partly designed by Mother Nature herself. Lambskin regulates temperature, is durable, skin-friendly and natural.
We also have comfy slippers for women, lambskin slippers for men and warm baby booties and slippers for kids. Learn more about our wide variety of lambskin slippers. In addition to our popular TRENDY slippers and slipper boots with leather soles, we have many other styles with something for everyone.
Keep your feet warm in the snow, too, with our lambskin boots for women and winter boots for men. And don't forget your hands! Our warm sheepskin gloves for women, lambskin gloves for men and soft gloves and mittens for kids keep your hands toasty and warm.