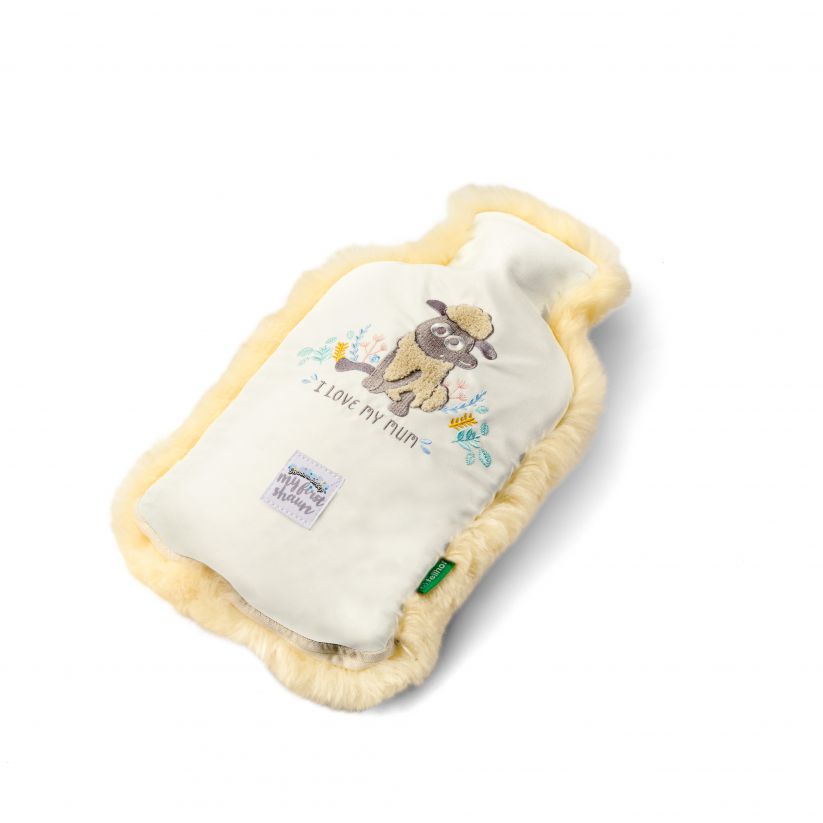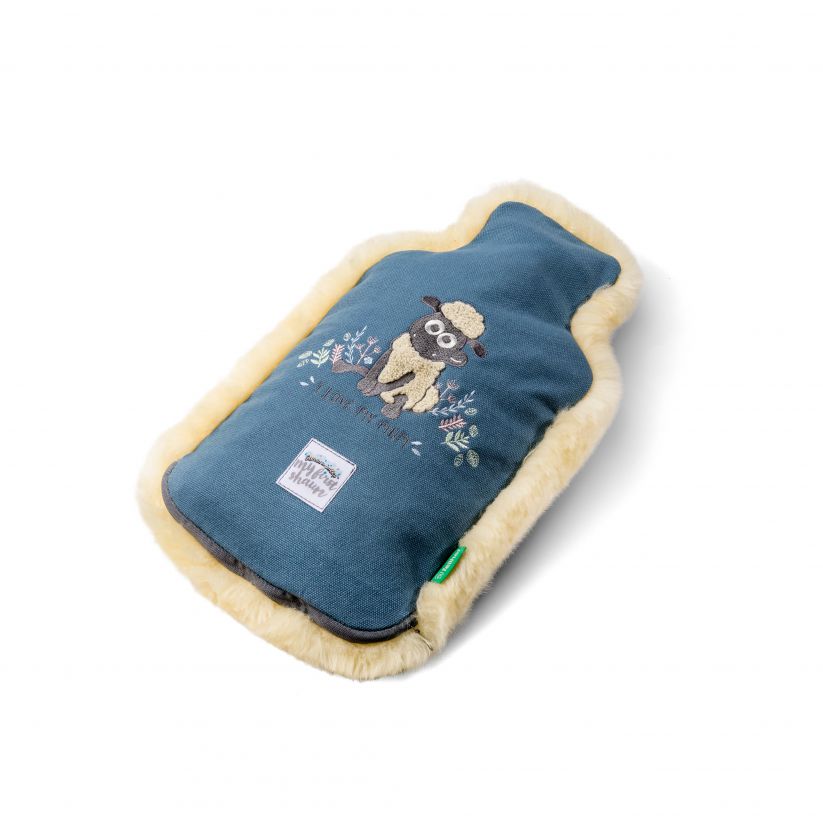 SHAUN Hot Water Bottle Cover with Lambskin
Click & Collect available
No Click & Collect
Ready for pickup:
Fellshop Wien Meidling
Fellshop Wien Mariahilferstrasse
Fellshop Salzburg Getreidegasse
Fellshop Graz
Fellhof Einkaufswelt in Hof bei Salzburg
Ready for pickup in 3-5 business days:
Fellhof Shop Wurzelstock Lienz
Fellhof Shop Innsbruck
Available, ready for shipping 1-3 Werktage
14 days right of withdrawal
Reviews
5.00 /5.00 A
"Sehr schön und warm, tolles Geschenk für mein Enkelkind !"
Shaun hot water bottle cover with lambskin gives your child warmth and comfort
Our cuddly Shaun the Sheep lambskin hot water bottle cover keeps your little one toasty and warm. This baby hot water bottle cover is not only cuddly-soft, it is designed especially for kids. The top of the cover is made of lambskin, which slowly gives off an even heat. Lambskin regulates heat transfer as the leather and structure of the lambskin insulates the heat of the hot water, keeping it warm for several hours. This lambskin hot water bottle cover is ÖkoTex certified and is perfect for helping little ones fall asleep, relieve pain or simply feel comfortable. Chills will be a thing of the past thanks to its approx. two-litre capacity. A practical zipper makes it easy to remove the cover for filling with water.
Order the comfort of Fellhof warmth and cosiness today.
Shaun the Sheep embroidery
"I love my mum" lettering
OEKO-TEX® Leather Standard certified
100% lambskin
Practical YKK zipper
Heat-insulating
Dimensions: 35 x 22 cm
Capacity: approx. 2 Litres
Colours: cobalt blue, vanilla white
Product number: 1370012
Grundsätzlich gilt: Nicht zu oft waschen! Lammfell ist selbst reinigend, schmutzabweisend und pflegeleicht.
Allgemeine Pflege: Regelmäßiges Bürsten und Aufschütteln helfen dabei, dass das Lammfell weich und flauschig bleibt. Auch bei leichten Flecken empfehlen wir das Fell gut durchzubürsten, die betroffene Stelle kann dabei zuvor leicht angefeuchtet werden. Generell empfehlen wir Fellprodukte regelmäßig gut auszulüften – am besten eignet sich hierfür Nebel, oder sogar Schnee für mehrere Stunden. Dabei gilt: das Fell kann feucht werden, das Leder sollte jedoch nicht nass werden.
Die Reinigung in der Waschmaschine: So selten wie möglich. Für die Reinigung empfehlen wir Handwäsche oder das Woll-/Handwaschprogramm der Waschmaschine kalt oder mit max. 30 Grad bei max. 600 Umdrehungen. Als Waschmittel raten wir ausschließlich zu PH- neutralem Spezial Lammfell-Shampoo.
Trocknen: Das Fell sollte zum Trocknen flach an einem luftigen Ort ausgebreitet werden, z.B. auf einem Wäscheständer am Balkon. Während der Trocknungsphase sollte das Lammfell noch in feuchtem Zustand in Form gezogen werden. Weder bei der Trocknung noch bei der Lagerung sollte der Fellsack direkter Sonneneinstrahlung ausgesetzt sein, auch die Nähe von künstlichen Wärmequellen (z. B. Heizung) vermeiden. Nicht im Wäschetrockner trocknen!
WICHTIG: Beim Fußsack Modell SÖLDEN die Magnetstreifen beim Waschen entfernen!