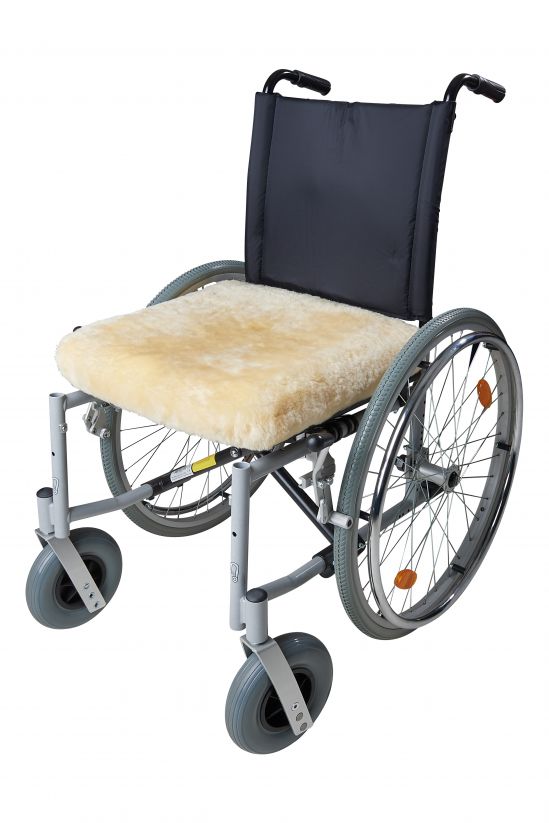 Wheelchair Seat Cushion 42x42x5 cm
Click & Collect available
No Click & Collect
Ready for pickup:
Fellshop Wien Mariahilferstrasse
Fellhof Einkaufswelt in Hof bei Salzburg
Ready for pickup in 3-5 business days:
Fellshop Wien Meidling
Fellshop Salzburg Getreidegasse
Fellhof Shop Wurzelstock Lienz
Fellshop Graz
Fellhof Shop Innsbruck
Available in 1 day, delivery time 1-3 days
14 days right of withdrawal
MEMORY wheelchair seat cushion

Our wheelchair cushions are made of especially high-quality medical lambskin that is not only comfortable, but soft and hygienic, too. The memory foam padding is comfortable and adjusts to the shape of your body.
ÖKO-TEX
Filling: memory foam
Removeable cover
Size: 42 x 42 x 5 cm
Washable (30°C) with our special lambskin shampoo
Product number: 5108042
Grundsätzlich gilt: nicht zu oft waschen! Denn Lammfell ist selbst reinigend, schmutzabweisend und pflegeleicht.

Allgemeine Pflege: Regelmäßiges Bürsten und Aufschütteln helfen dabei, dass das Lammfell weich und flauschig bleibt. Auch bei leichten Flecken empfehlen wir das Fell gut durchzubürsten, die betroffene Stelle kann dabei zuvor leicht angefeuchtet werden. Generell empfehlen wir Fellprodukte regelmäßig gut auszulüften – am besten eignet sich hierfür Nebel, oder sogar Schnee für mehrere Stunden. Dabei gilt: das Fell kann feucht werden, das Leder sollte jedoch nicht nass werden.

Waschen: Die Reinigung in der Waschmaschine: So selten wie möglich. Für die Reinigung empfehlen wir Handwäsche oder das Woll-/Handwaschprogramm der Waschmaschine kalt oder mit max. 30 Grad bei max. 600 Umdrehungen. Als Waschmittel raten wir ausschließlich zu PH- neutralem Spezial Lammfell-Shampoo.

Trocknen: Trockne das Lammfell flach ausgebreitet an einem luftigen Ort. Ziehe das Lammfell noch in feuchtem Zustand in Form und bürsten Sie es mit einer Fellbürste mehrmals durch. Nicht unter direkter Sonneneinstrahlung oder in der Nähe von künstlichen Wärmequellen (z. B. Heizung) trocknen. Nicht im Wäschetrockner trocknen!