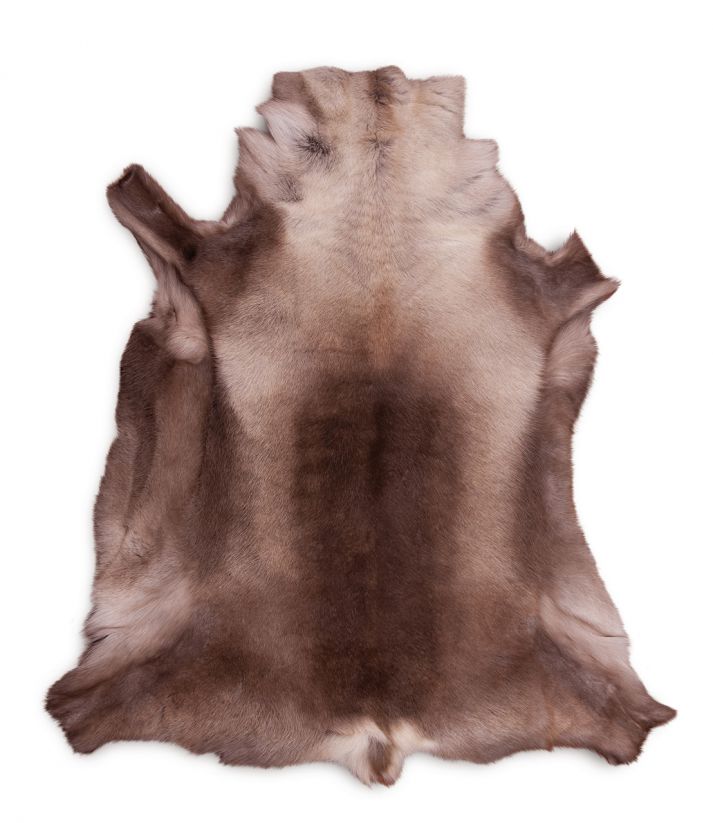 Reindeer, Small, Approx. 75x120 cm
€99.00
%
€179.00

incl. VAT excl. shipping costs
Cheapest price (30 Days) €99.00
Available, ready for shipping 1-3 days
14 days right of withdrawal
Natürlicher Wohnraumflair durch Rentierfell Natural character with reindeer hide
Unsere Rentierfelle bestechen durch ihre natürliche Ästhetik und einzigartigem Charme. Ein elegantes Rentierfell fügt sich perfekt in jeden Einrichtungsstil ein, egal ob Sie Ihrer Loftwohnung oder Ihrem Landhaus einen ganz besonderen Charakter verleihen möchten. Ein natürliches Rentierfell, ob als Teppich, Wandbehang oder Sitz-/Liege-Auflage einen großen praktischen Wert und ist durch sein weiches Fell sehr bequem. Die Felle sind weder gefärbt noch gebleicht.
Jedes Fell ist ein Unikat, kein Fell gleicht dem anderen. Sie erwerben ein hochwertiges Naturprodukt und somit können auch Narben, Verletzungen und Falten auf den Rentierfellen auftreten. Natürlich selektieren wir für Sie die Felle entsprechend, damit Sie nur Felle erhalten, die möglichst makellos sind.
Size: 75x120 cm
Colours: dark brown, light brown, beige
100% genuine reindeer hide
Each is one-of-a-kind
Do not wash – please follow our care instructions
Product number: 6601120
The basic rule is: do not clean too often - cowhides are natural products and self-cleaning! A high-quality cowhide retains its radiance for years, even without care products. In combination with fresh, oxygenated air (regular airing outdoors), bull or cow skins clean themselves. They are hygienic and have an antibacterial effect.
Therefore, do not clean them too thoroughly with chemical cleaning agents. You can also clean the hide with a vacuum on a low setting. If you want to remove stains or coarse dirt from the bullhide, use a sponge with warm water and a little neutral soap. Note: The leather should not be soaked, but only slightly moistened - never use too much water!